Oceanside California.
A CA Coastal Treasure.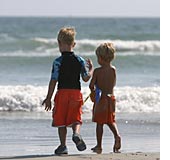 Oceanside, a beach community just north of Del Mar, has it all.... gorgeous weather, excellent surf, and beautiful beaches. Serving as a major transportation link between San Diego and Los Angeles, Oceanside is located on the western coast of California on the Gulf of Santa Catalina.
Over 3.5 miles of white sandy beaches allow frolicking in the sand, sunbathing, and beach recreation. The beaches, especially those to the north of the pier, are wide and sandy, allowing ample room for lounging in the sun or picnicking. Fire rings, available to early birds, add a small town touch to evening relaxation.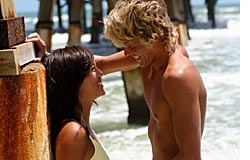 One of the longest wooden piers on the western coast, Oceanside pier offers 1,942 feet of strolling and fishing vantage points. The pier, home to a variety of exciting events including surfing competitions as well as body boarding and body surfing contests, is a veritable hot spot of social gathering..Its amphitheater is also host to numerous entertainment events.

A red and white lighthouse is a prominent icon of Oceanside Harbor. Very affordable fishing tours and boating excursions are plentiful within a

harbor that houses over one thousand boats. Sport fishing, high and low impact water activities, and whale watching are favorite pastimes of residents and tourists alike. If the ocean aroma filling the air isn't tempting enough, take a step into one of the fine dining establishments. There are several fine Oceanside restaurants from which to choose.



Souvenirs can be picked up in Heritage Park Village where many of Oceanside's original buildings still stand. Upscale boutiques, quaint shops, fancy restaurants, and cozy cafes provide the shopping experience of a lifetime, as well as the opportunity to pick up a few momentos.

A variety of art galleries, interesting museums, and art shows offer a taste of culture in Oceanside, California. Images of Oceanside's past are visible at the Mission San Luis Rey de Francia, located just four miles from the harbor. Also known as the king of missions, it is an impressive piece of historical architecture that features influences from Spanish, Moorish, and Mexican cultures.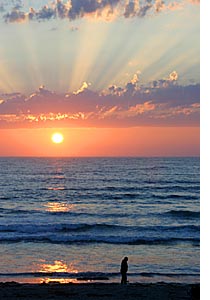 Temperatures that average from a low of 52 F to a high of 69 F degrees make Oceanside a very desirable place to visit and even a better place to live. If you are interested in relocating, there are several Oceanside real estate agents that know where the best real estate values can be discovered. From spacious luxury homes to beachfront properties, condos and affordable houses, you'll find real estate here is quite in demand.
No reason to stay outside the area since there is a great selection of both discount motels and hotels in Oceanside from which to choose. There are many other lodging options including vacation rentals, bed and breakfast inns and beachfront homes for rent. Imagine breathing clean crisp air while enjoying spectacular ocean views from your own front porch. Whether you are on a family vacation, traveling on business or enjoying a romantic honeymoon getaway, you'll find accommodations that will complement your style and budget.
Kayaking, jet skiing, fishing, swimming, surfing, boating, skydiving, shopping and an indulging day at the spa are all available in a beautiful Oceanside CA and even more attractions and adventure await you in other San Diego communities.
Welcome to Oceanside. You will love it here.