Mission Beach California.
More Than A Strand of Sand.
Mission Beach, just minutes north of San Diego on the western coast of California, offers perfect weather, scenic beauty, gorgeous sunrises and sunsets, and great beaches. A continuous stretch of beach, located between Pacific Beach and the Mission Bay Channel, Mission Beach is often referred to as "The Strand."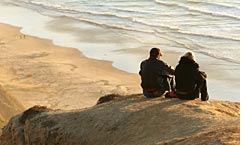 The beach, miles and miles of it, provides daylong adventures with plenty of swimming, sunbathing, and exploring. Public restrooms and showers, well-trained lifeguards, and nearby amenities at the boardwalk guarantee a pleasant visit. Sand dollars and seashells dot the beaches in the early morning hours and during low tide, adding to the fun. There is plenty of kayaking, surfing, jet skiing, boogie boarding, boating, wind surfing, and wake boarding happening daily.
The Belmont Amusement Park opens the window to the Southern California lifestyle, including body piercings, tattoos, and unusual outfits. The second oldest wooden roller coaster in the USA, a variety of adventurous rides, including The Big Dipper Roller Coaster, and exciting games can all be found here. The boardwalk is always bustling with people clamoring to rent surfboards and bikes, shopping for beach souvenirs, and enjoying typical boardwalk fare at a number of small and large eateries.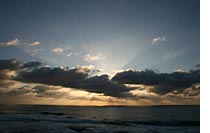 The day is winding down and it's time for a little replenishment. Mission Beach has several hot spots that hit that spot perfectly. A true San Diego legend as one of the best beach bars, Lahiana's Beach House Bar & Grill dishes up awesome ocean views, as well as culinary delights for the three traditional meal times. Enjoy the oceanfront view from the upper deck of Cane's Bar & Grill while music resonates in the background and the wafting aromatic scents awaken your appetite.
Nearby Mission Bay, over four thousand acres, is full of outstanding places to jog, bike, roller blade, bird watch, or picnic. It is a veritable delight for residents and vacationers. The Bahia Belle, an authentic three-story Mississippi sternwheller paddleboat, cruises along at a moderately slow pace along Pacific Beach and Mission Beach. Imagine the glorious sunset falling down graciously around you, romantic music playing in the background, and a panoramic slide show of scenic panorama passing along beside you.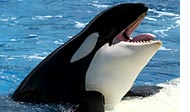 SeaWorld San Diego is only a hop and a skip, or eight miles, away from Belmont Park. This exciting theme park provides spectacular fireworks displays in the summer, and rides and exhibits throughout the entire year.
Vacation beach rentals, luxury resorts and spas, charming inns, and discount Mission Beach hotels offer a wide assortment of lodging and accommodation choices. In fact, so many choices exist that you may have to decide to visit again.
Home to the affluent as well as those of moderate income, Mission Beach is a beautiful location with charming homes and real estate in an array of colorful pastels. Condominiums, cottages, apartments, and single-family houses are interspersed throughout the swaying trees, oceanfront, and trendy shopping strips. If you're considering relocation to the area, see a Mission Beach real estate agent. They sill know where the best home values can be found.
Whether you are looking for a weekend of fun time or a lifetime of lifestyle pleasure, Mission Beach CA is the place.