Presidio Park in San Diego
This is where San Diego was born. This magnificent city park has a rich and storied history that dates back to 1769. It was on this hill in 1769 that Spanish Franciscan missionary, Father Junípero Serra, along with a group of soldiers led by Gaspar de Portolá, established California's first mission and presidio (fort). A settlement was created at the base of the hill at a spot known today as "Old Town San Diego." In 1821, Mexico won its independence from Spain and took control of the area. In 1848, this area of Mexico was ceded to the United States after the Mexican-American War. With a dwindling population, a "New San Diego" was created in the mid 1850s closer to San Diego Bay. That New City area became known today as the "Gaslamp Quarter."
Presidio Became A Magnificent San Diego Park
In 1907, George Marston purchased Presidio Hill, intending to develop it into a commercial center. Unable to raise the needed funding

he converted it into a private park and eventually donated it to the city of San Diego. It became "Presidio Park." The original mission built by Juniper Serra was moved a few years after its construction to Mission Valley. All that remains of the Presidio fortress are some obscure ruins.

Landmark icon of Presidio Park is the Junipero Serra Museum. The museum, which was built in 1928 is often mistaken for the original mission built by Father Serra in 1769. The museum commemorates Father Serra and houses historical collections of the San Diego Historical Society. Just stand on the top of the hill and you can see why Serra and de Portolá chose this spot to build the original settlement in 1769. It has a high vantage point with views of the valley below and San Diego Bay.

Presidio Park is the ideal park venue. Feel the aura of what life must have been like when the Spanish first arrived at this spot. Imagine the lives of the Kumeyaay Native Americans whose prehistoric ancestors had inhabited this area for over 9,000 years. Visit the museum. Picnic on 50 acres of grassy hills. And stroll the walking trails while you enjoy the panoramic views of Mission Bay and the Pacific Ocean. Weddings can be reserved with the City of San Diego Parks or consider the park area as the backdrop for some very creative photo shoots for families and romantic couples.
Layout of Presidio Park
Click the layout for a detailed printable map of the grounds.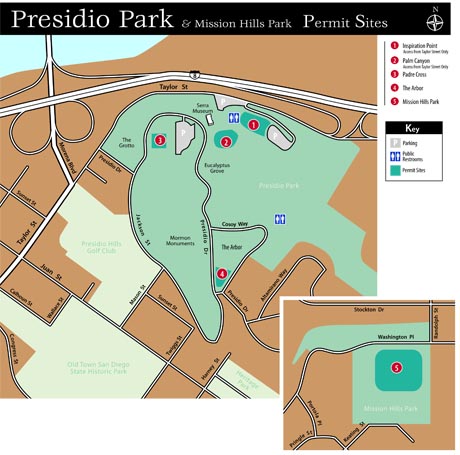 Map Direction To Presidio Park
View Larger Map
More Information About The Park
Presidio Park
2811 Jackson St
(between Mason St & Presidio Dr)
San Diego, CA 92110
Neighborhood: Old Town
(619) 692-4918
Junipero Serra Musem
2727 Presidio Drive
San Diego, CA 92103
Phone: (619) 232-6203