Touring San Diego: Mission Bay
San Diego's Mission Bay Park is a man-made wonderland developed by dredging and filling of marshlands. Over 25 million cubic yards of sand was dredged and moved to create the islands and channels that make up the bay. With its 4235 acres, Mission Bay is the largest man-made aquatic park in the United States. But the park's approximate 15 million annual visitors don't care about the numbers. They're too busy sailing, hiking, swimming, picnicking and flying kites to worry about anything but having fun.

Hotels along the bay include the Hilton, the Bahia, the Catamaran and more. In addition, beach houses are popular for weekly rentals with their

patios butting up to the boardwalk, literally just a few feet away from the shoreline. Kayaks, paddleboats, jet skis, sailboats and windsurfers are all available for rent from the many hotels and surf shops around the bay.

Bicyclists, skaters, walkers and joggers flock to the board walk that follows the shoreline of the bay. The east side of the bay is popular with picnickers and wind and kite surfers while the west side of the bay can have more of a spring break atmosphere to it depending on the time of the year. The west side borders on the funky town of Mission Beach.

In the middle, is appropriately named Fiesta Island. Fiesta Island hosts various events such as professional volleyball. It's famous for the annual Over the Line Tournament each July. Over the Line is a softball like game better known for its rowdiness and off color team names.

Also in the middle of Mission Bay lays a mellower island, Vacation Island. Lodging and dining are available here and despite its name, the island is accessible by roadways and bridges. Vacation Island is a popular place for weddings; most Saturdays are booked at the banquet halls along the shore.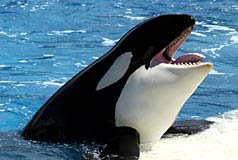 Mission Bay's biggest resident is SeaWorld. SeaWorld has long used the bay for its spectacular water skiing shows and its latest offering to the bay is its Cirque de la Mer show. The show takes place on the water and combines acrobatics, music, special effects and fanciful creatures.

The Boy Scouts have a private campground on Fiesta Island and can be found camping through much of the summer. For the rest of us, there's Campland on the Bay. Campsites are available for tents through motorhomes. While not the most deluxe campground, the view can't be beat.

Mission Bay at night ranges from beach parties on Fiesta Island to harbor cruises on a paddlewheel boat. Hotel visitors can stroll along the board walk under the moonlight or dance under the stars.

While 15 million visitors a year sounds like a lot, there's plenty of space, both on land and on water, to spread out and enjoy the scenery.