Solana Beach's Fletcher Cove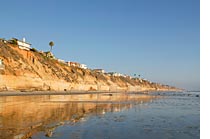 San Diego's vibrant community of Solana Beach is named after the sun. Solana Beach offers several beaches nestled against the sandstone bluffs. The beaches here are gorgeous and tend to be overlooked by many San Diegans and tourists alike. That's not to say they're empty but when La Jolla Shores is packed and you're circling the parking lot forever in search of a spot, Solana Beach is likely to have parking to spare.

Fletcher Cove is a smaller beach and the shoreline tends to disappear at high tide. Because of this, space is limited. The sandstone bluffs have suffered recent failures further limiting where you can set up for the day. But if you plan it just right, you're in for a treat at Fletcher Cove.

Check the tide tables and plan on arriving as the tide is going out. Since the tide is receding, the sandscape will get larger during your stay,

giving you more room to spread out. Free parking is available in the small lot on top as well as side streets. A large concrete ramp takes you down the bluffs to the beach. This ramp is much superior to adjacent beaches in Solana Beach where you must go down steep and treacherous staircases in order to reach the shore below.

Once at the bottom of the ramp, you'll encounter a small semi-circular beach area that's reminiscent of a small cove. As the cliffs encroach, the sand strip gets smaller. While the stretches of sand on the outer edges of the cove are small, they do offer a more intimate beach experience.

Fletcher Cove has a lifeguard on duty during the summer months and it is extremely popular with surfers. A reef break offshore beckons surfers to paddle out and catch the consistent and powerful break. This surfing zone is restricted only to surfers with a swimming and boogie board section marked on the south side of the cove.

Fletcher Cove is one of the most family oriented beaches in San Diego. Here you'll find grandparents digging castles and moats with their grandkids, and families of all ages. You're less likely to find raging teen parties or scantily clad bathers at this beach than at other San Diego beach hot spots.

A set of restrooms and showers is located up above near the parking lot. While it may be a hike back up the ramp, at least they are available and clean. Many of the beaches nearby have no facilities at all.

Trying to find a spot to lay out your beach blanket at Fletcher Cove takes a little bit of planning and logistics. You don't want to get too close to the bluffs because they are unstable and they do collapse from time to time. Don't take the warning signs lightly; fatalities have occurred along the San Diego North County coastline due to bluff failures. In addition, high tide takes its fair share of beach real estate. If the tide is coming in, pay attention and get ready to grab your stuff and get cozy with your neighbors behind you. Finally, depending on the kelp cutting activities offshore, you may have to dodge large piles of kelp that has washed ashore. These kelp piles tend to smell bad and attract sand flies which can be miserable depending on where you are located and which way the wind is blowing (or not blowing).

Getting to Fletcher Cove is a matter of taking the Lomas Santa Fe exit off of Interstate 5 and following it until it dead ends into the Pacific Ocean. The town of Solana Beach offers many restaurants and delis where you can get food to take along with you. In addition, Cedros street is well known for its art galleries, antique stores and the Belly Up Tavern.

Consider Solana Beach's Fletcher Cove for a family friendly beach outing. You'll be able to park for free and enjoy the beautiful and rugged shoreline that typifies the San Diego North County coast complete with surfers, kelp and sandstone. The water here is often more clear and the floor less rocky than nearby beaches.