Coronado Island California.
A CA Vacation Paradise.
Welcome to our Coronado Travel & City Guide. We are your one-stop information center for Coronado hotel accommodations, real estate agent connections, restaurants, vacation rentals, bed and breakfast inns and other conveniences for residents and vacationers. Read more about Coronado.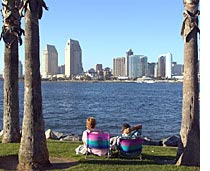 Actually Coronado is not an island but a peninsula. But why get technical? Coronado is the perfect family vacation spot in the San Diego area. It sets across the bay from downtown San Diego connected by the landmark San Diego - Coronado Bay Bridge. With the widest and longest recreation beach in the area, Travel Channel rates Coronado the number one family beach in America.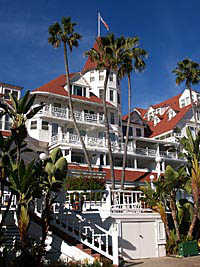 Rising from ocean's edge is the Hotel del Coronado one of America 's most beautiful beach resorts featuring unlimited vacation fun for the entire family. "The Del" as it is affectionately known to residents has been a favorite getway for the rich and famous since 1888.
Visitors can drive to the city of Coronado via the San Diego-Coronado Bridge, but it's fun to take the ferry from Broadway Pier. During the ride, soakup the astounding beauty of Pacific ocean horizons, sparkling white sandy beaches and the world's most beautiful sunsets. By any vacationer's standard, Coronado is one of America's finest postcard-perfect settings. Turn-of-the-century mansions front the ocean, while yacht clubs line the bay. Coronado features numerous parks with impeccably-maintained amenties.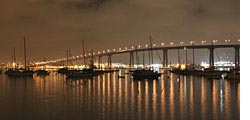 Swim, frolic in refreshing waters, skateboard the park, enjoy the sights or take a romantic moonlit stroll. Feast on some of the world's best dining and visit Coronado's many quaint shops. You'll never run out of things to do in Coronado. That's a promise.
Hotels, Lodging & Accommodations.
Conveniently choose from our selection of romatic bed and breakfast inn or one of the many oceanfront vacation rentals. Here, there is lodging and accommodations fitting every desire.
Coronado Real Estate & Homes For Sale.
Vacationing in Coronado is a special treat. Living here is even better. It features a charming village atmosphere of palm-lined streets with many homes built in the 1940's. You'll also discover oceanfront property and multi-story modern condo living. Visit our particpating Realtors and real estate agents that will gladly show you where the best real estate values can be found.
Amenities That Make Coronado CA Special.
We make it easy to connect with Coronado Restaurants, Beauty Salons, Day Spas and things to do. So bookmark us now as your one-stop Coronado Travel Guide. We are your source for everything Coronado.