About Coronado Island CA
Coronado, an enchanting island with a magical setting, is located across San Diego Harbor from downtown San Diego. With a colorful history, white sandy beaches, gorgeous sunny weather, fine dining, boutique shopping, and luxury accommodations, Coronado is a vacation getaway for people throughout the world. Swaying palm trees, cool ocean breezes, brilliant flora and Pacific Ocean horizon panoramas showcase this island that encompasses only 7.4 square miles of tropical paradise.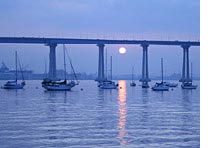 Connected to San Diego by the San Diego-Coronado Bridge, a landmark in the San Diego skyline, Coronado offers a quiet, serene environment while being just minutes away from the hustle, bustle, and attractions of city life including the famous Gaslamp Quarter.
A lovely assortment of small hotels and three luxury hotel resorts provide excellent accommodations for travelers. At the edge of the water sits the Hotel del Coronado like a glistening gem in the middle of a treasure box. This beautiful beach resort is one of America's best. Its quaint Victorian architecture and long history since 1888 is legendary, leading it to be named a National Historic Landmark. A popular wedding destination, the Hotel del Coronado, affectionately referred to as the Del by locals, presents an elegant stay with luxurious amenities including its world famous spa.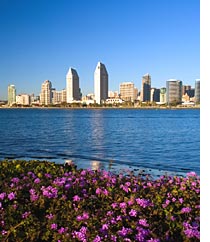 A beautiful bay shoreline with waterfront parks offer an excellent vantage point to watch boats sailing across the San Diego harbor. A leisurely ride on an authentic Venice gondola during a guided tour through the Coronado Cays Canal offers a very romantic and scenic journey.

Tourists and residents experience good old hometown nostalgia while shopping along historic Orange Avenue. Historic buildings stand proudly in magnificent splendor. Numerous shops with an amazing array of designer boutiques, outdoor cafes, and trendy restaurants will entertain you from sunup to sunset. An intimate moonlit stroll will define the day's events.

The northern end of the island is home to a naval base that shelters US Navy aircraft carriers. The elite Navy Seals receive training here at the Naval Amphibious Base.

Two island marinas, Loews' Crown Isle Marina and Glorietta Bay Marina rent paddleboats, sailboats, and jet skis. Coronado Beach, including its

adorable tide pools and fishing areas, draws many vacationers, tourists, and residents to its sandy expanse of swimming, camping, biking, and skating . Two island parks offer hours of family fun with cute playgrounds and picnicking areas.



Whether your game is tennis or golf, Coronado is the perfect spot. Tee off at one of the islands well manicured golf courses or pick up a fast paced game of tennis. If water adventure is more your thing, a harbor cruise or deep sea fishing excursion may be the perfect past-time. If the adventurer in you craves a bit more excitement, surfing is always an option.

Coronado is full of exciting events like festivals, concerts, fiestas, flower shows, parades, and holiday celebrations that light up the parks and fill the air with music, laughter, and good times. This tiny piece of tranquil vacation paradise will create getaway memories that will last a lifetime.