San Diego Private Event Dining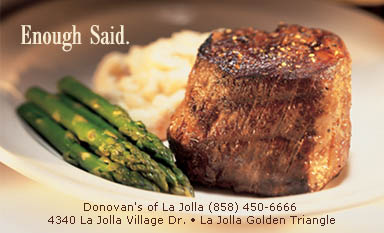 Private Event Dining in San Diego

Bali HaiThank you for considering Bali Hai for your special occasion. The Bali Hai has been a favorite in San Diego for over forty years. The South Pacific Room and The Hawaiian Village are perfect for wedding receptions, with spectacular views of San Diego Bay and the city skyline.
Zócalo GrillHost your gathering at Zócalo Grill. Zócalo boasts an attractive private dining area perfect for banquets and other special events.
beloAt belo , we can accommodate any style of event. Our technology for sound, staging, lighting and multimedia presentation is state of the art. This includes entertainment ranging from a dance-club setting with guest DJs or live jazz bands to performance acts. We can also offer awards dinners with comedians or guest speakers or even themed supper-club style events.
J6BarWith the fusion of lively colors, exceptional cuisine and an urban oasis, Jsix and the Hotel Solamar bring you an ideal destination for your next business meeting or social event.
DECO's RestaurantDeco's prides itself on its amazing event space and knowledgeable catering and operations staff who will transform any private event into an extravagant, elegant affair!
Bertrand at Mister A'sThe perfect location to host your private event. Just minutes away from the San Diego Convention Center, it is easy to get to with plenty of parking.
Top Of The Cove - La Jolla CATop of the Cove's renowned menu and wine is also available through our catering services. Weddings, parties, events at your place or ours.