La Jolla CA. The Gem By The Sea.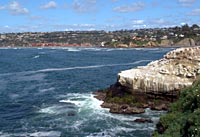 La Jolla California, a popular seaside resort community, is a true gem by the sea with its warm sandy beaches, gorgeous ocean breeze weather, and beautiful scenery. It has everything conducive to a vacationer's paradise that is limited only by the tourist's energy and imagination. La Jolla stretches from the Torrey Pines State Park at its northern end to the Pacific Beach at its southern end.
Beautiful sunrises greet the early riser on any given day, while golden sunsets gently descend upon La Jolla placing a beautiful ending to each day of gorgeous sunshine. Tree-lined streets, churches with authentic bells, inviting benches, colorful flowers interspersed along the sidewalks of town, and trees as tall as five story hotels that seem to reach up to the sky greet each morning in La Jolla CA.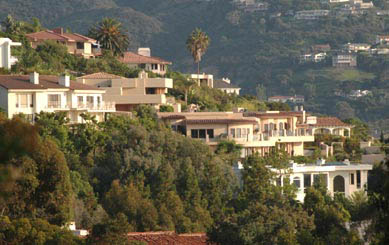 La Jolla is a charming host to an assorted variety of events throughout the year. A family event, Movies by the Sea, entertains moviegoers while they enjoy the tasty delights of a picnic. An all you can eat seafood experience awaits the discerning diner every Friday and Saturday evening throughout the summer at the Festival de la Mer. Literary minded individuals enjoy the frequent author related events, including discussions and signings. Several athletic events challenge the stamina of the entrants with 4-mile runs and swimming events.
Thatched canopies offer shade on the sandy beaches along the pristine blue waters of the Pacific Ocean, sparkling with enticing invitation. Water sport activities offer refreshing opportunities for fun and excitement. Adventurous residents, repeat visitors, and intrigued tourists can enjoy a myriad of activities including surfing, scuba diving, snorkeling, kayaking and swimming.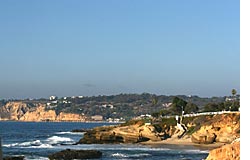 There's plenty to do and many things to see. Peaceful views of enchanting beauty and warm Pacific breezes beguile the golfer in between putts or the biker taking a breather. Explore the rocky caves, arches, and steep cliffs of the Torres Pines for an exciting taste of adventure. Visit quaint historic sites, including "The Hotel of Pleasant Memories" and the La Jolla Historical Society Building, where you can see historical artifacts intrinsic to the area's early days.

After a long, rewarding day of fun or a productive day at work, indulge in extraordinary culinary delights or fine wines that reflect the ethnicity of

the town, including Asian, Italian, French, Spanish, Mediterranean, or home-grown Californian at one of the areas fine restaurants or eateries. The atmosphere of each restaurant has been carefully thought out and presents a relaxing and enjoyable setting for your dining pleasure.



Enjoy the opportunity to bring home more than photographs from La Jolla as you shop one of charming shops or high-end galleries in the La Jolla Village shopping district. The elite shopper will not be disappointed. Walking tours of downtown La Jolla Village pose a dazzling array of breathtaking galleries, designer boutiques, and charming shops from morning until night.

La Jolla with its reputation as one of the best places to live and its proximity to San Diego offers an excellent lifestyle of luxury in the midst of uniquely beautiful surroundings. Real estate offerings in La Jolla include luxury or affordable homes- each with their own personal window to spectacular beauty. Nestled into the slopes of Mount Soledad, charming homes offer an exclusive privacy from the hustle and bustle of the world coupled with panoramic views that beckons each person to arise from their slumber with a renewed energy and zest for life.

Hotel accommodations are almost as exciting a feature of the stay as the activities in the area. Enjoy a memorable and comfortable stay at one of La Jolla's hotels including beach front hotels, lodges, motel inns, or resorts. You'll also discover romatic bed and breakfast inns and great vacation rentals.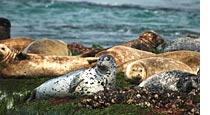 Welcome to La Jolla,
California. The jewel
by the sea.