San Diego Beaches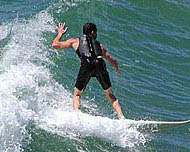 A visit to San Diego CA almost always includes getting your toes wet in the sparkling Pacific Ocean. With a rugged yet beautiful coastline that stretches from the Mexican border to Orange County, San Diego County offers some of the world's best beaches, each with a personality completely Southern Californian and completely its own.
From funky to chic, San Diego beaches offer sun, sand (most of the time), wind and waves. Among the funkiest beaches you'll find is legendary Swami's in Encinitas. This is a surf spot in the cool and funky beach town of Encinitas in the North County. Swami's gets its name from Swami Paramhansa Yogananda and the Self-Realization Fellowship Retreat located on the bluffs that soar over the beach. Parking is limited and you must hike down a staircase to get your feet wet. For surf watching, hang out at the Seacliff Roadside Park and enjoy the waves crashing below. This beach is a legendary surf beach and you can expect big waves under the right conditions.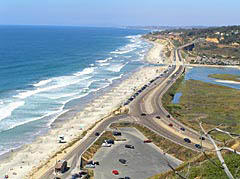 Further to the south lie the gorgeous beaches of Torrey Pines and La Jolla. Torrey Pines is named for the wild, rare and beautiful Torrey Pine Tree unique to this stretch of coastline. The beach is nestled against rugged sandstone cliffs and alongside a portion of Highway 101. You can park in the main parking lot or in a parking lot on the east side of Highway 101 and walk under the bridge to the beach. Above the cliff is the Torrey Pines State Reserve, 2000 acres of pristine California bluffs with over 8 miles of trails, scenic overlooks and a visitor center. No food is allowed on the preserve, so picnic down below on the beach.
If you walk south alongside the cliffs of Torrey Pines you will come across two unique sights, hang gliders soaring off the cliffs and nudists. That's right, Black's Beach is San Diego's only "clothing optional" beach and it's located below the hang glider port. If you plan to bare it all, pay close attention to the signs and boundaries for where nudity is allowed. Nudity is controversial here so you may want to check with the ranger before stripping down for the exact boundaries. Access to Black's Beach is easiest from adjacent beaches such as Torrey Pines rather than from the cliffs and rickety stairways above.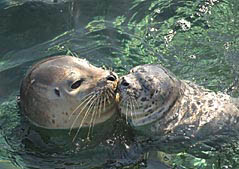 For a true Pacific Ocean experience, rent a kayak and paddle out from La Jolla Cove. Here you'll find the underwater ecological preserve known as the La Jolla Ecological Preserve. With a boat speed that tops out at 5 mph and land masses creating a sheltered cove, the water at La Jolla Cove is relatively wave-free. Smooth water beckons you out to the kelp forests where you float above a unique and beautiful forest of sea kelp. Sea lions and the California state fish, the bright orange Garabaldi, frolic amongst the kelp. The water here is among the clearest in southern California making the waters off the coast of La Jolla popular with snorkelers and scuba divers.
If you've had enough of nature watching at La Jolla Cove and just want to take in some good old So Cal people watching, head on over to
La
Jolla Shores
just a short jaunt away. Here you'll find a vast stretch of white sand, a boardwalk, beach volleyball courts and a large grassy area. And plenty of people. Summertime crowds make parking scarce, so plan on arriving early or parking elsewhere and hiking in. Surfing, boogie boarding and swimming are main attractions here.
San Diego's Mission Beach typifies the southern California beach experience. The boardwalk entices bike riders, skaters, pedestrians, joggers and people watchers from all walks of life. Boardwalk side restaurants and bars make for unique dining and bar hopping. To top it off, an amusement center complete with a wooden roller coaster are trademarks to the area.
Nearby, Mission Bay is an attractive alternative to the hubbub of Mission Beach. While not necessarily less crowded, Mission Bay offers plenty of room to spread out both on shore and on the water. Mission Bay is a huge aquatic park and features boat launches, picnic areas, hotels, camping and special events such as Pro-Beach Volleyball, Thunderboat races, Over the Line Tournaments as well as occasional specials like MTV Spring Break, and the X-Games. Sailing and rowing are both hugely popular on the waters of Mission Bay as well as jet skiing, water skiing and fishing. Fiesta Island is an island in the middle of Mission Bay known for its party attitude. Roaring bonfires and Grunion hunts at Fiesta Island are annual traditions for many San Diego locals.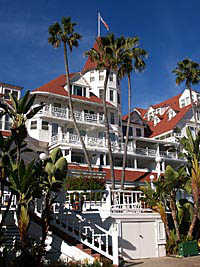 The Coronado City Beach is among the widest, white sand stretches you'll find in San Diego County. Public beach access to the stretch of beach behind the Hotel Del Coronado lets you live the life of the rich and famous. Pick up a sandwich at one of the cafes nearby and walk along the landscaped boardwalk until you find the perfect patch of white sand for your picnic. Here you'll have a spectacular view of the Hotel Del Coronado behind you and the sapphire blue Pacific Ocean in front. This is the beach where Marilyn Monroe, Jack Lemmon and Tony Curtis performed their antics in the movie "Some Like it Hot."
Coronado's Silver Strand State Beach is a few miles to the south along the manmade "Silver Strand". This beach is one of the lesser known of San Diego beaches and even allows overnight camping. In fact, this is one of the few camping beaches where you can arrive the same day and have half a chance of getting a campsite. Campsites are awarded at this beach on a lottery basis.
If you have your heart set on camping at the beach in San Diego, you will need to make advance reservations through the State Park system. Only a few beaches allow overnight camping including San Onofre, South Carlsbad State Beach and San Elijo State Beach.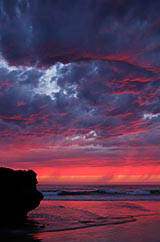 Exploring tide pools is an adventure loved by people young and old. The beaches along Sunset Cliffs are great for walking at low tide and seeing starfish, crabs, sea anemones and other forms of tide pool creatures. Sunset Cliffs is located south of Ocean Beach and is named for its fabulous sunsets. This area becomes more rugged with coastal bluffs and treacherous hikes down to the shore but it is hugely popular with surfers who scamper down the cliffs with an uncanny ease, and paddle out impossible distances to catch the reef break. For the rest of us, bike riding or walking along the cliffs is good enough. Here you can bird watch and even whale watch during the winter months.
To say this list is just the tip of the iceberg of San Diego's beaches is an understatement. San Diego is home to miles upon miles of coastline featuring fabulous beaches with their own personality. Even during the peak summer months, you can find a patch of sand that will take you away from it all and take your breath away at the same time.