Advertising On San Diego ASAP.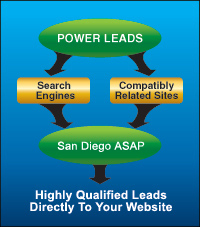 Delivering New Business
Right To Your Front Door
Advertising Options
We strengthen your competitive advantage by capturing leads through web search and referrals from compatibly related websites which we continuously expand. Those potential customers are then referred to your website where they could become one-step closer to becoming your next loyal client.

Our target audience are those with a zest for travel, vacationers and residents that are seeking solution providers. We help build your business by driving highly qualified leads right to your front door. The following online advertising options will prominently position your products and services squarely in the heart of a desirable target audience 24/7 at a fraction of the cost of print promotion.
1. Spotlight Ads......$350 Calendar Year
Spotlight Ads are the strongest advertising positions and reside at the top of the main content area of selected topic pages. Only one spotlight advertiser will be featured per topic page.
2. Featured Ads.....$250 Calendar Year
Featured Ads appear below Spotlight Ads in the main content area of selected topic pages. Only three featured ads will be presented per topic page.
3. Sidebar Button Banner Ads
Sidebar Ads reside in the rightside sponsored advertiser area above Google Ads. Button Banner Ads are 125 Pixels x 125 Pixels square.

• Home Page..........$650 Calendar Year


Includes ads on each City Home Page

• Inside Pages.......$300 First Ad/Calendar Year.


$150 Each Additional Page
4. Bottom Leaderboard....$1200 Calendar Annual
(Run of Each Community Site) The 90 Pixel x 728 Pixel Leaderboard Ads appear at the bottom of every web page per community. A maximum of five (5) Advertisers will be auto rotated across every page within each website giving equal impressions.
Ad Specifications
Ad rates are based upon client furnished ads in JPEG format to the exact dimensions. We do not recommend Flash or animated ads. Ad rates are per calendar year of January through December. An initial short year will be prorated with all renewals due each November 1 for the following calendar year. Advertisers must agree to our Terms of Advertising.
Preferred Listings
Preferred Listing appear underneath Featured Ads on certain topic pages. For a limited time, the first five (5) listings per topic page are free. Listings must be a website with a San Diego area presence. Only one free listing per website. Click here to submit your listing.
Advertising Interest Form