Enjoying a Pleasant Cruise
on San Diego Bay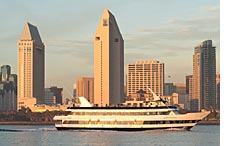 Harbor Drive in San Diego is home to a variety of sights, smells and sensations, but one of the best features of this beautiful drive is that it passes by a number of excellent cruise ship companies. Of course San Diego is a major port city, and many of the enormous cruise ships dock there to let their passengers explore the wonders of the city before taking off for other exciting ports of call. In addition to these major league cruises, however, there are a number of great smaller cruises in and around the harbor, ranging in length from one hour to three and four hour dinner cruises complete with dancing.

These San Diego cruises can usually be booked on the spot, and there are a number of sailings each day for added convenience. On busy days, such as when the city is playing host to a convention or other large gathering, however, it may be necessary to book tickets in advance. Your travel agent, or the concierge at your hotel, should be able to help you with these kinds of arrangements.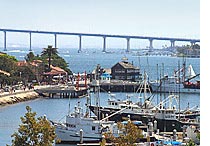 Once onboard, all you need do is find a good vantage point, sit back, relax and enjoy the ride. Most of the cruises are narrated, and many of the tour guides have fascinating personal histories and great stories to tell. The city of San Diego looks glorious from the water, as does the beautiful island of Coronado, which is home to many military retirees. The bridge that spans the distance from downtown San Diego to Coronado, known as the Coronado Bay Bridge, is a glorious sight from any vantage point, but it is especially impressive when seen from the top of a ship cruising the harbor.

San Diego Bay is also home to an impressive population of California sea lions, and they can often be seen lounging on every available buoy

and platform in the water. They can also be seen tailing the many fishing vessels that work the waters around San Diego, hoping for a free meal as the fisherman dump their bait at the end of the day. The population of these creatures has gotten so large that many of the locals consider them a nuisance, but to visitors like me it was great to see them so close up.

For those visitors in search of a shorter, and cheaper, water excursion, there are regular ferries to the island of Coronado. These ferries provide a more pleasant way to get to the island that the aforementioned bridge, and the island itself is a wonderful place to enjoy a walk and meet the locals.

Click here for a wide selection of hotels in San Diego.